League of Legends (LoL) Official K/DA Gear | Logitech G
PLAY LEGENDARY
COMING TO YOUR REGION EARLY 2021

Introducing Official K/DA Gear
The League of Legends and Logitech G partnership has spawned a collection of exclusive gear straight from the K/DA universe. By joining forces, we're bringing legends to life with Logitech G best-in-class gaming gear. Unlock your abilities. Customize your setup. Play legendary.
PLAY LIKE K/DA
Get ready to make a splash with K/DA. Each piece of gear features advanced high-performance gaming technology, custom-crafted in true K/DA aesthetic. This is the complete set up you need to hear, comm, and skillshot right on time.
K/DA G733
LIGHTSPEED WIRELESS RGB GAMING HEADSET
K/DA G333
IN-EAR GAMING EARPHONES
K/DA G305
LIGHTSPEED WIRELESS GAMING MOUSE
K/DA G840
XL GAMING MOUSE PAD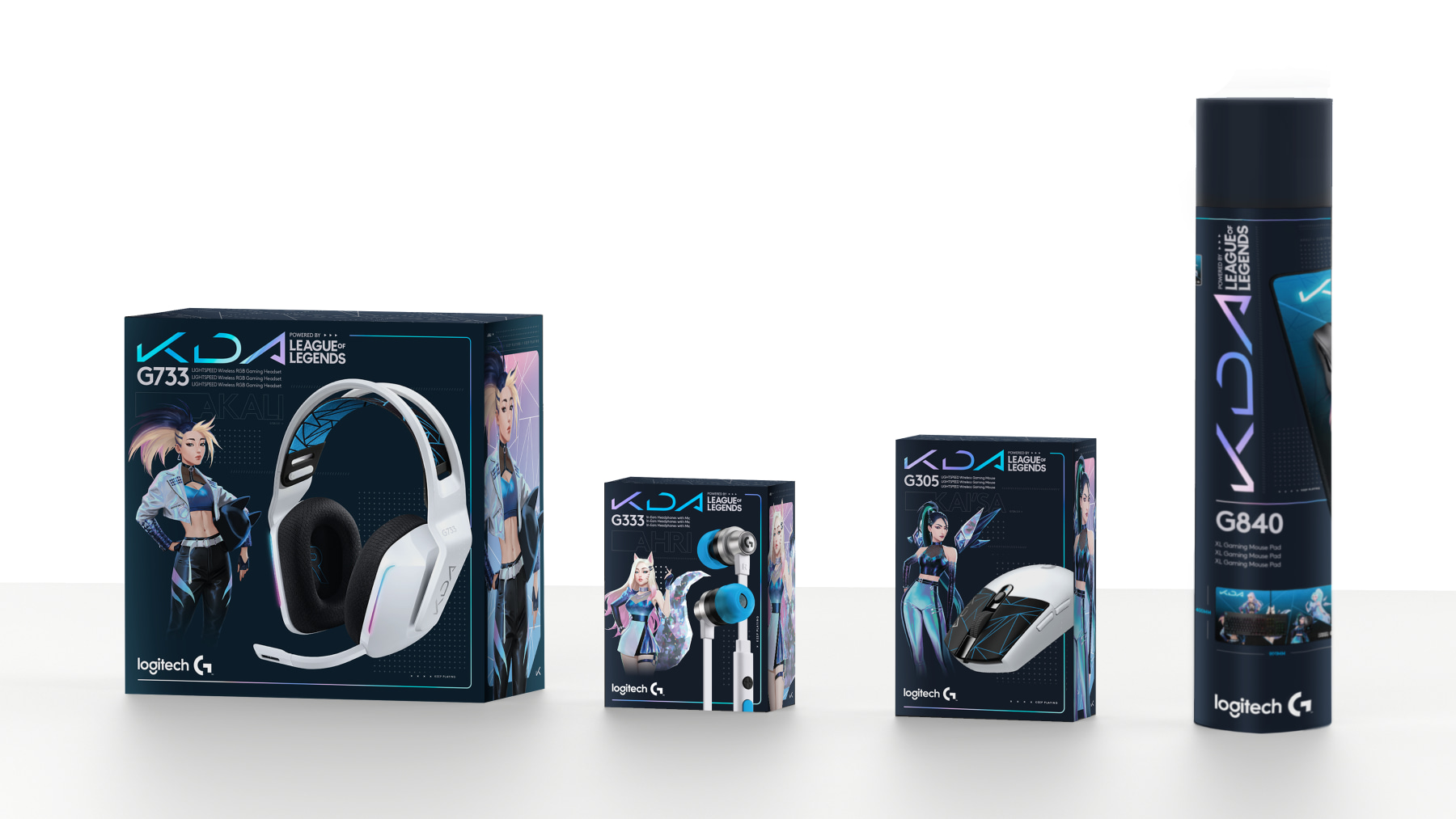 K/DA G733
Light it up with our new headset full of fresh style and adept skill—just like Akali. The K/DA exclusive G733 combines next-gen surround sound and LIGHTSPEED wireless technology with vibrantly animated LIGHTSYNC RGB.
K/DA G333
Play it loud everywhere life takes you. Get the earphones that deliver amazing gaming audio performance, from the desktop to wherever you want to go. Ahri loves the G333s with K/DA style that lets her stay on the move and upping her game.
K/DA G305
Knock them dead with superfast LIGHTSPEED wireless performance and hyper precise HERO sensor. This mouse is spiked with K/DA style and ready to perform—just like Kai'Sa.
K/DA G840
Take the space you need to play center stage alongside Evelynn. Get real, real wild with a performance-tuned surface for superior mouse control adorned with the whole group, including their newest collaborator: Seraphine.