X52 H.O.T.A.S. Throttle and Stick Simulation Controller
Realistic Flying at Hand
X52 delivers precise flight simulator operation, employing a multifunction LCD for easy access to an astounding minimum of 105 programmable commands. Coordinate your flight plan with clock and stopwatch function. Fly long comfortable stretches with adjustable handle to accommodate a wide range of hand sizes.
Key Features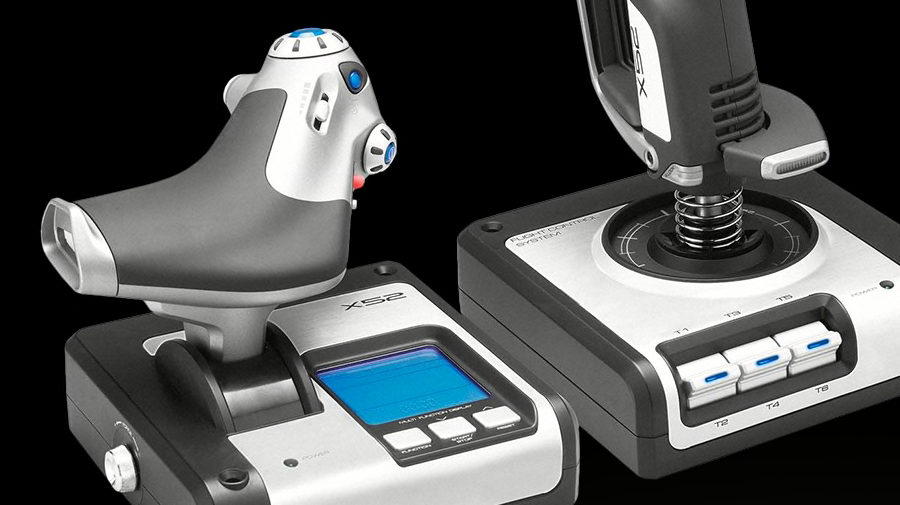 Illuminated Buttons and LCD Display
Realism in Lighting
Illuminated critical buttons on the stick and throttle let you know where to press when time is of the essence. Enhanced LCD display, with adjustable backlighting, gives you information about your button configurations at-a-glance.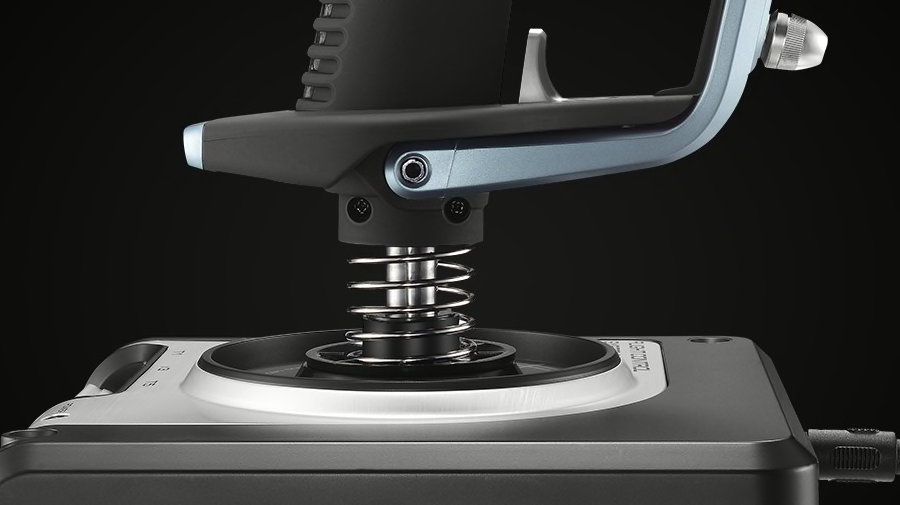 Spring Centering Mechanism
Constant Spring Force
A highly accurate centering mechanism ensures the joystick will easily return to the neutral position after you let go. Non-contact technology on the X and Y axes enhance control while increasing durability.
Download customization software now
Progressive, Adjustable Throttle
Dialed In Resistance and Detents
The throttle unit's progressive functionality improves aircraft response. Detents (physical markings indicating where a certain action activates) simplify control of your craft's idle, afterburners and reverse thrusters. Yet another customizable feature found on X52, a tension adjustment dial lets you change the throttle's resistance to suit the way you fly.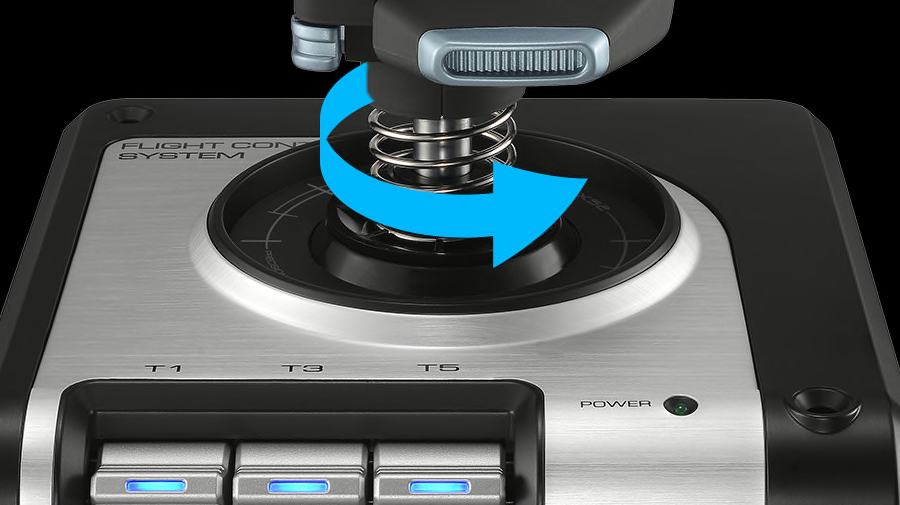 3D Twist Rudder Control
With Rudder Center Lock Option
The joystick's twist rudder controls add another dimension of command to simulated flight. If you prefer more traditional control, a rudder lock switch disables the twist capabilities and confines input to the X and Y axes – ideal for use with Logitech G Flight Rudder Pedals (sold separately)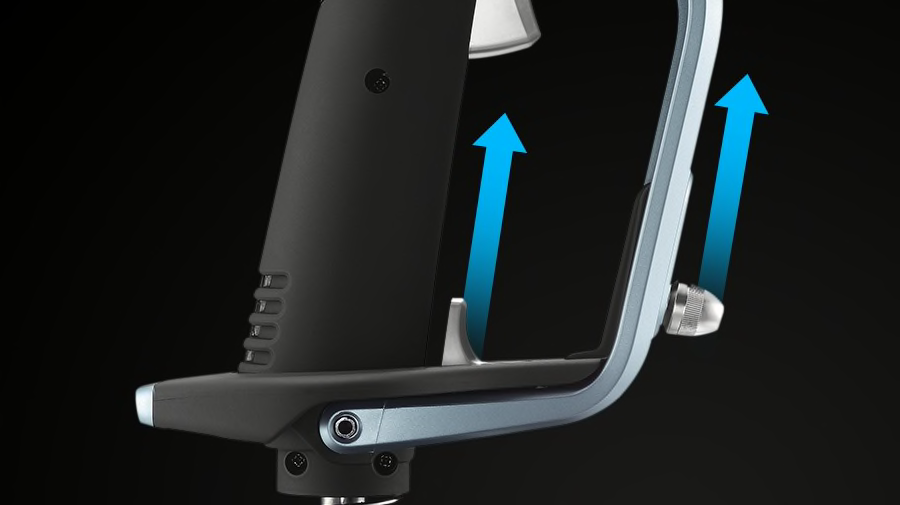 Advanced Grip Adjustment System
Custom Ergonomics
A five-position handle adjustment system conforms to your grip style and hand size. And to promote maximum comfort during epic flights, the joystick's handle also features contours which harmonize with your digits.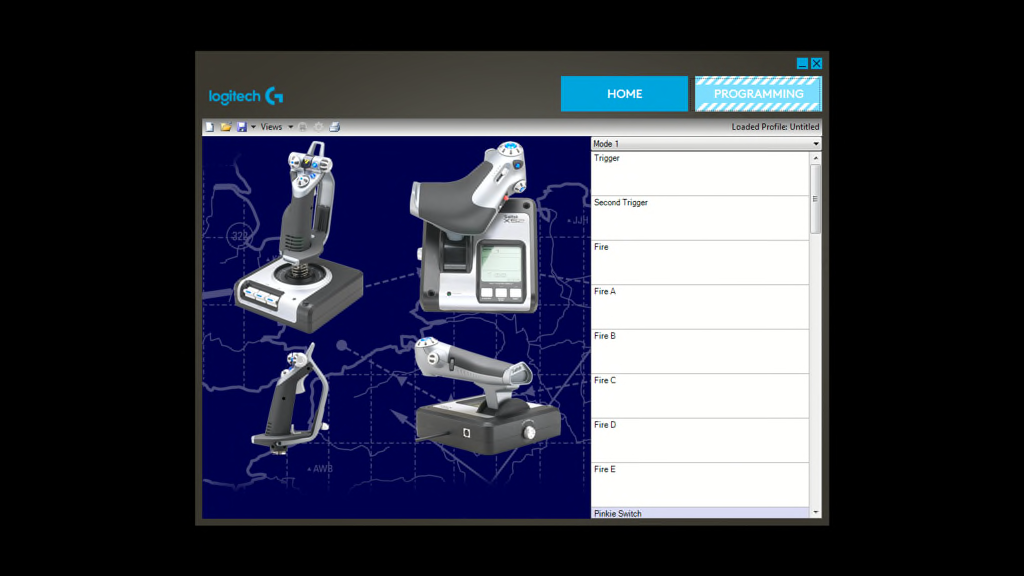 Powerful Programming Software
Three Modes
Downloadable software lets you create custom profiles for your space and flight sims. Three mode settings and a pinkie switch provide enhanced programming options for even more control for all 7 axes, 3 HATs, mouse micro stick and 19 programmable buttons.
Download customization software now
PACKAGE CONTENTS
Stick Unit with USB connector cable
Throttle Unit with USB connector cable
User documentation
PHYSICAL SPECIFICATIONS
STICK:
Length: 6.7 in (17 cm)
Width: 6.7 in (17 cm)
Height: 10.9 in (27.8 cm)
Weight: 2.3 lbs (1033 g)
Cable Length (Power/Charging): 4.6 ft (1.4 m)
THROTTLE:
Length: 6.7 in (17 cm)
Width: 6.7 in (17 cm)
Height: 7.5 in (19 cm)
Weight: 1.6 lbs (728 g)
Cable Length (Power/Charging): 4.6 ft (1.4 m)
SYSTEM REQUIREMENTS
Smart Technology
Windows® 10, Windows 8.1, Windows 7
2-USB 2.0 Port
Internet connection for optional software download
Controller Specifications
Connection Type: USB
USB Protocol: USB 2.0
USB Speed: Full Speed
Indicator Lights (LED): Yes
LCD Display: Yes
USB Ports (Built-in): No
Backlighting: Yes
Game Compatibility
Compatible with most major simulation software and games, including:
Elite: Dangerous
Star Citizen
Battlefield 1
Flight Simulator X
Flight Simulator 2004
Flight School
Prepar3D® 2.2+
X-Plane 11
X-Plane 10
X-Plane 9
DCS World
DCS: A-10C Warthog
DCS: Black Shark 2
DCS: UH-1H Huey
Lock On: Modern Air Combat (LOMAC)
Lock On: Flaming Cliffs 3
Lock On: Flaming Cliffs 2
Lock On: Flaming Cliffs
Aerofly FS
Aerofly FS2
Take On Helicopters (TKOH)
Rise of Flight
Arma 3
Falcon 4.0: Allied Force
Falcon BMS 4.32
World of Warplanes
War Thunder
Warranty Information
2-Year Limited Hardware Warranty
Free shipping on orders EUR 39.00 and over.