Performance Facet Keycap Layout
Speed. Accuracy. Backed by Science.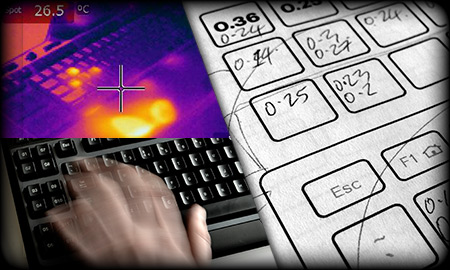 Performance Backed by Science
Performance Facet Keycap design and keyboard layout is the result of more than a year of development. We used thermal imaging along with high-speed camera game-play studies across multiple genres to optimize the key layout and wrist rest design. The outcome is an efficient layout designed for comfortable, fast gaming.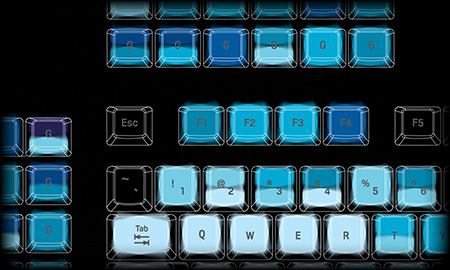 Accuracy in Gaming
Proper finger and hand positioning helps improve blind key-press (touch typing) accuracy and confidence. The shape of the keycap provides feedback on fingertip position for enhanced performance in various gaming positions.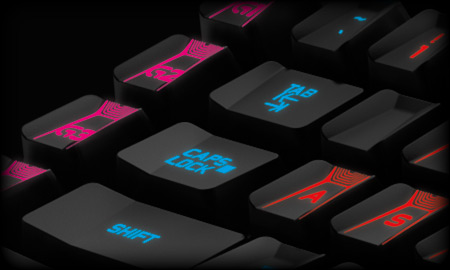 Easy to Reach Keys
Speed and accuracy are the goals of this innovative design. Pinky-strike keys are designed with an angled side facet to improve edge-strikes. G-key placement is the result of extensive studies to find the optimal G-key positions that are fast, accurate and convenient to the player.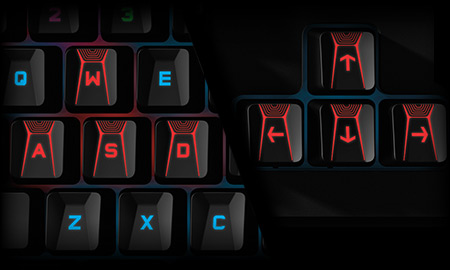 Find Keys Quickly
Laser-etched light patterns on the G-keys and arrow keys improve illumination and make them easy to find during fast-paced gaming. Center lighting on the Romer-G mechanical switch minimizes light leakage and directs more light through the top of the keycaps. Get more illumination where it matters. Play fast. Play accurate. Win with Science.