Romer-G
Faster, Sharper, and More Durable Mechanical Switches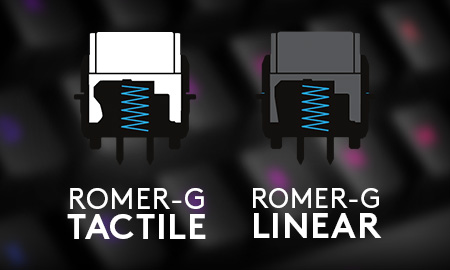 Advanced Mechanical
Romer-G was designed and engineered to be the highest performance mechanical gaming switch with faster and quieter actuation and brighter, sharper lighting. Romer-G has become the choice of the world's top esports professional and the most demanding players. Romer-G is rigorously tested for the highest levels of durability, reliability and performance.

Now available in two distinct profiles: Tactile and Linear.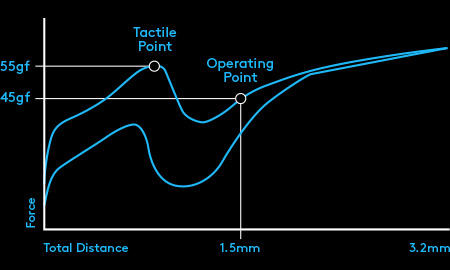 Romer-G Tactile
Romer-G Tactile, the original profile, provides a discernible tactile bump during actuation.

Our tactile actuation is minimal and so provides confidence and precision in the actuation moment, without being too loud or distracting. Romer-G Tactile is ideal for competitive and FPS gaming.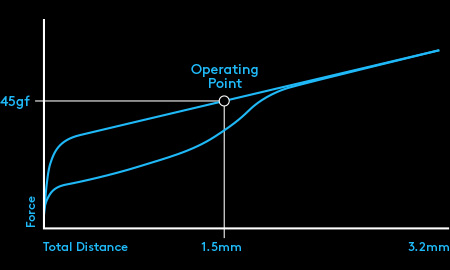 Romer-G Linear
Romer-G Linear provides a fluid and smooth keystroke.

Linear actuation is great for double-tapping, rapid keystrokes in succession and uninterrupted half-presses. Romer-G Linear is ideal for MMO and action games.
| | | |
| --- | --- | --- |
| Switch | Romer-G Tactile | Romer-G Linear |
| Feedback Type | Discernable Bump | Fluid and Smooth |
| Actuation Distance | 1.5mm | 1.5mm |
| Total Travel | 3.2mm | 3.2mm |
| Average Force | 45gf | 45gf |
| Tactile Force | 50gf | N/A |
| Lifespan | 70M Clicks | 70M Clicks |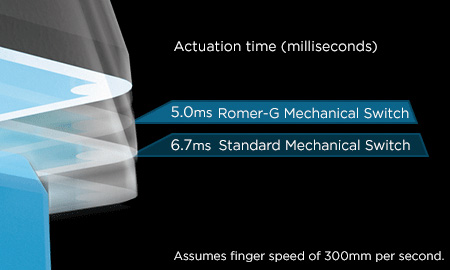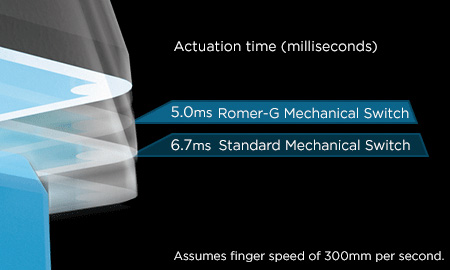 Faster and Quieter
Both Romer-G Tactile and Romer-G Linear switches feature a short-throw 1.5mm actuation distance and a low-force 45g actuation point.

Logitech G developed Romer-G switches to be faster and more responsive than standard mechanical switches. They are also quieter than standard for a more refined experience.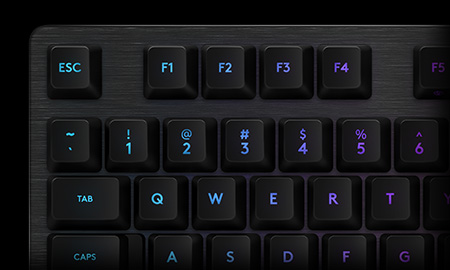 Sharper and Brighter
Romer-G not only outperforms, but also outshines the competition. The switch is engineered with a centered backlight to minimize light leakage and an exclusive Swiss-engineered lens to evenly focus light through the top of the keys.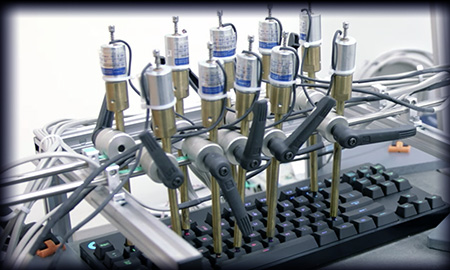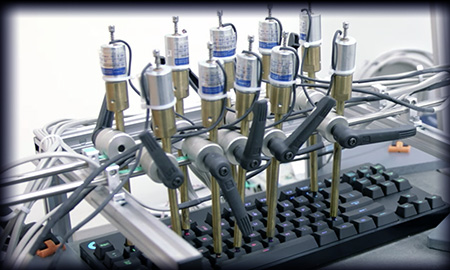 Unrivaled Quality and Durability
Tested for 70 million keystrokes, Romer-G mechanical switches are up to 40% more durable than the standard mechanical switches. Dual-contact redundancy helps ensure key activation at the same point, every time, for unparalleled consistency and performance.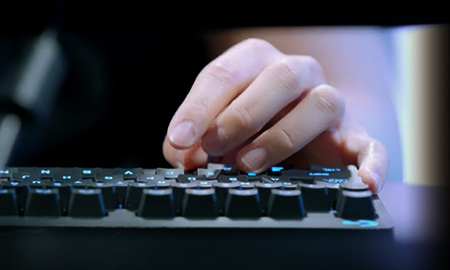 The Choice of Pros
Esports pros all over the world prefer Logitech G mechanical keyboards featuring Romer-G switches.

Speed. Accuracy. Consistency. Endurance.

Romer-G was purpose-built with the same attributes that pro esports athletes need to win.
SHOP ROMER-G
Romer-G is available in a variety of keyboards. Find the keyboard right for you.