Romer-G
All-new, exclusive mechanical key switch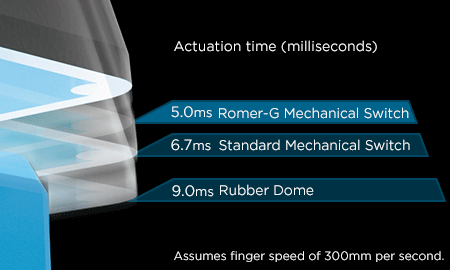 Up to 25% Faster
The all-new Logitech Romer-G™ mechanical switch actuates at a distance of 1.5mm. That's up to 25% shorter and faster than the leading competitor. Low-force, 45g actuation results in near-instant responsiveness and helps minimize fatigue over long gaming sessions.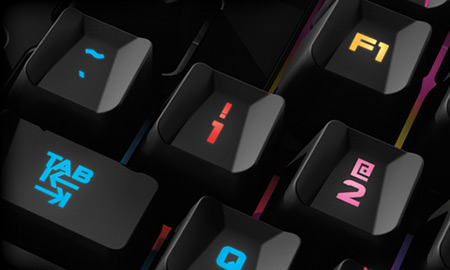 Smooth, Confident, Accurate Keystrokes
Performance Facet Keycaps and soft click switch design improve tactile feedback and responsiveness. Patent-pending asymmetric keycap design keeps your fingers centered and improves edge-strike activation for more direct and reliable keystrokes.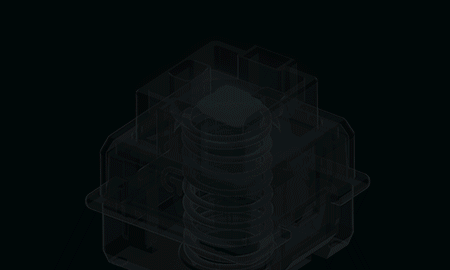 Total Lighting You Can Depend On
Centered, surface-mount LED backlight design minimizes light leakage and focuses light evenly through the top of the keys for a cleaner, more appealing look. Surface mounted LEDs improve connection strength and reliability over standard keyswitch-mounted mechanical keyboard backlighting. Keyboards with RGB-backlighting feature an exclusive Swiss-designed lens that combines and focuses RGB lighting.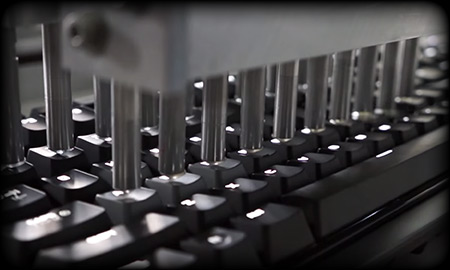 Long Lasting Reliability
Tested for 70-million keystrokes, Romer-G mechanical switches are up to 40% more durable than the top competitor. Dual-contact redundancy helps ensure key activation at the same point, every time.