Refurbished ASTRO A50 Wireless + Base Station Wireless Gaming Headset for Xbox, PlayStation and PC/MAC*
Refurbished ASTRO A50 Wireless + Base Station
Wireless Gaming Headset for Xbox, PlayStation and PC/MAC*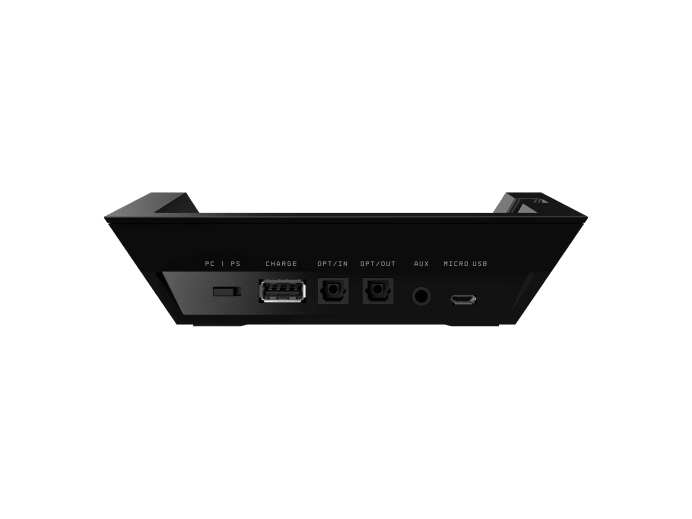 Refurbished ASTRO A50 Wireless + Base Station
Wireless Gaming Headset for Xbox, PlayStation and PC/MAC*
With revolutionary design, advanced acoustics and ergonomic comfort, A50 Wireless + Base Station delivers an unforgettable gaming experience.
*A50 for Xbox is compatible with Xbox Series X|S and PC/MAC. A50 for PlayStation is compatible with PlayStation 4 and PC/MAC. HDMI adapter available for PlayStation 5 compatibility.
Our Gift to You : FREE G FITS Earbuds ($229.99 value) on orders over $349. 
Technical Specifications
A50
Primary Specifications

Microphone: 0.24in (6 mm).0 mm uni-directional, voice isolating
Ear coupling: Over-Ear
Drivers: 1.57 in (40 mm) Neodymium Magnet
Wireless range: 49 ft
Standby Battery Life: ~ 20 months
Wireless Frequency: 2.4GHz
Battery Type - Lithium Polymer, single cell

PHYSICAL SPECIFICATIONS

Weight w/o cable: 13.40 oz (380 g)
Length: 7.28 in (18.5 cm)
Width: 3.48 in (8.84 cm)
Height: 7.17 in (18.22 cm)

Technical Specifications

Transducer principle: Open Air
Frequency Response: 20Hz - 20,000Hz
Characteristic SPL: 118 dB @1kHz
BASE STATION
Primary Specifications

Power supply: USB Micro-B (USB 2.0 compatible)
Wireless range: 49 ft
Inputs and Outputs: Optical Pass-through, USB Power & Soundcard, USB Charging Port, AUX In / Mic out (TRRS 0.14 in (3.5 mm))

PHYSICAL SPECIFICATIONS

Weight w/o cable: 317 g
Dimensions: 8.50 in (21.59 cm)/10.79 cm/2.92 cm

Technical Specifications
1-Year Limited Hardware Warranty
Black/Grey :

996-000358

Black/Gold :

996-000359
A50 Wireless Headset with Lithium Polymer, single cell ­­
ASTRO Wireless Base Station
Transmitter/Charging Stand
1.0m Micro USB Cable
1.0m Optical Cable
Product Documentation
Dolby® Atmos 2 year activation code
Guaranteed Astro Quality
ASTRO Gaming headsets and controllers are now available as an Authentic ASTRO Refurbished set only from ASTRO Gaming, and each product comes with our standard warranty. Although each product may have minor cosmetic blemishes, we believe that they will live up to the legendary ASTRO Gaming standard of quality.
We think you will be satisfied with the very high standards for Authentic ASTRO Refurbished products. ASTRO Certified Refurbished products include all required cables, accessories, and manuals included with new products.
Gaming headsets have a 1-year warranty from the original date of purchase.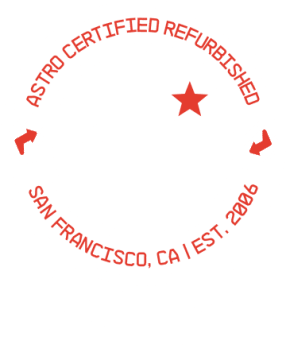 A complete wireless solution, the A50 sits at the ready in the Base Station at all times. Just grab and go, and you are in the game instantly. Powerful wireless audio and clear, low-latency voice communications combine for the ultimate gaming adventure.
BUILT-IN MIXAMP
GAME : VOICE BALANCING AND EQ PRESETS
BASE STATION
INTEGRATED CHARGING STAND AND 2.4GHz WIRELESS TRANSMITTER

DOLBY AUDIO
CINEMATIC GAMING AUDIO
TUNED WITH ASTRO AUDIO V2
Detailed frequency response and true-to-life imaging enable precise localization of sound and an unmistakable, competitive edge in your gaming. Experience A50's crisp, soaring highs, controlled mids and distortion-free bass.
GAME : VOICE BALANCE
Built-in MixAmp technology gives you instant control over chat levels, game audio, and EQ presets so you can optimize your soundscape without interrupting your game play.
DOLBY AUDIO AND DOLBY ATMOS*
Immerse yourself in cinematic audio with unparalleled, multi-dimensional clarity and spatial sound directionality.
*Free 2 year Dolby® Atmos activation code inside (Xbox only).
ASTRO COMMAND CENTER SOFTWARE
The free ASTRO Command Center software gives players complete control over their audio experience, which includes voice communication and game audio settings. Available on Windows 10, Xbox One and Mac.
BATTERY POWER THAT LASTS
Don't let a sudden power loss shut down your audio. A50 Wireless powers your gaming sessions with a rechargeable lithium-ion battery that holds 15+ hours of unstoppable power.
MOD KIT READY
For even more customization, the optional A50 Mod Kit allows users to add synthetic leather headband and ear cushions for improved noise isolation. Only compatible with A50 Wireless Gen 4.
FLIP-TO-MUTE MICROPHONE
Unidirectional mic and flip-to-mute functionality for clear, accurate communication.
ASTRO SERIES WIRELESS HEADSETS
A30 WIRELESS
LIGHTSPEED Wireless Gaming Headset for Xbox, PlayStation, PC/MAC, and Mobile
A50 WIRELESS
Wireless Gaming Headset and Base Station for Xbox, PlayStation, and PC/MAC