G923 TRUEFORCE Racing wheel for Xbox, PlayStation and PC
Exclusive TRUEFORCE feedback connects directly to in-game physics for unprecedented realism. Premium build featuring aluminum paddle shifters, hand-stitched leather wheel, and pressure-sensitive brake system.
Dimensions
WHEEL PHYSICAL SPECIFICATIONS
Height: 270 mm
Width: 260 mm
Depth: 278 mm
Weight without cables: 2.25 kg
PEDALS PHYSICAL SPECIFICATIONS
Height: 167 mm
Width: 428.5 mm
Depth: 311 mm
Weight without cables: 3.1 kg
Technical Specifications
WHEEL TECHNICAL SPECIFICATIONS
Rotation: 900 degrees lock-to-lock
Hall-effect steering sensor
Dual-Motor Force Feedback with TRUEFORCE
Overheat safeguard
PEDAL TECHNICAL SPECIFICATIONS
Nonlinear brake pedal
Patented carpet grip system
Textured heel grip
Self-calibrating
Materials
Wheel spokes: Anodized aluminum
Wheel cover Hand-stitched leather
Steering shaft: Steel
Shifter paddles: Brushed stainless steel
Mounting clamps: Glass-filled nylon
Pedal frames and arms: cold rolled steel
Pedal piston sleeves: Polyoxymethylene thermoplastic (POM)
2-Year Limited Hardware Warranty
Black PS5 /PlayStation /PC :

941-000149

Black Xbox Series X|S /Xbox One/PC :

941-000158
REQUIREMENTS (XBOX SERIES X|S AND XBOX ONE)
REQUIREMENTS (PLAYSTATION 5 OR PLAYSTATION 4)
Steering wheel
Pedals
Power supply
User documentation
BUNDLE & SAVE 20% WITH THE WHEEL TRUEFORCE PACK
Discount shown in cart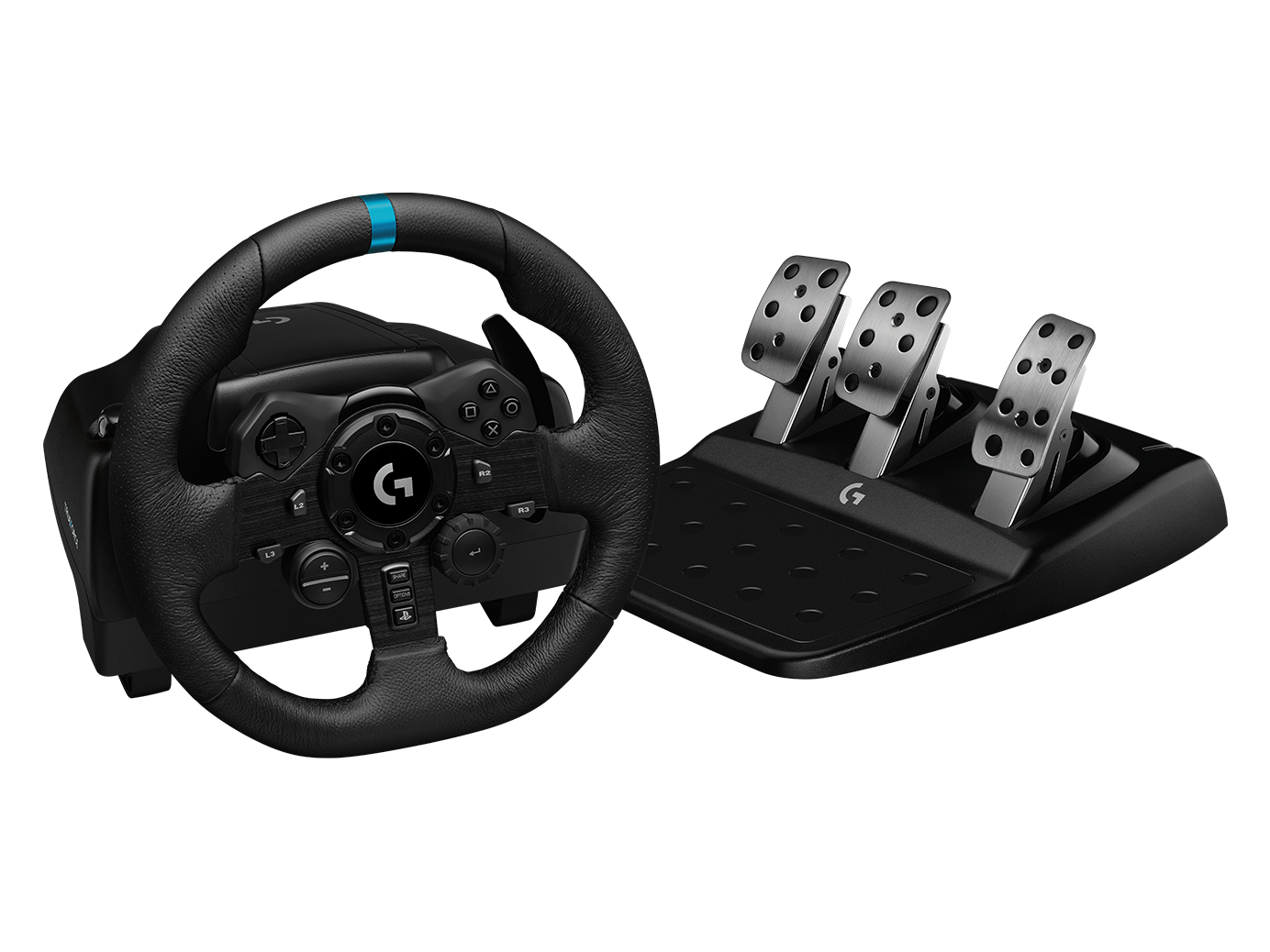 G923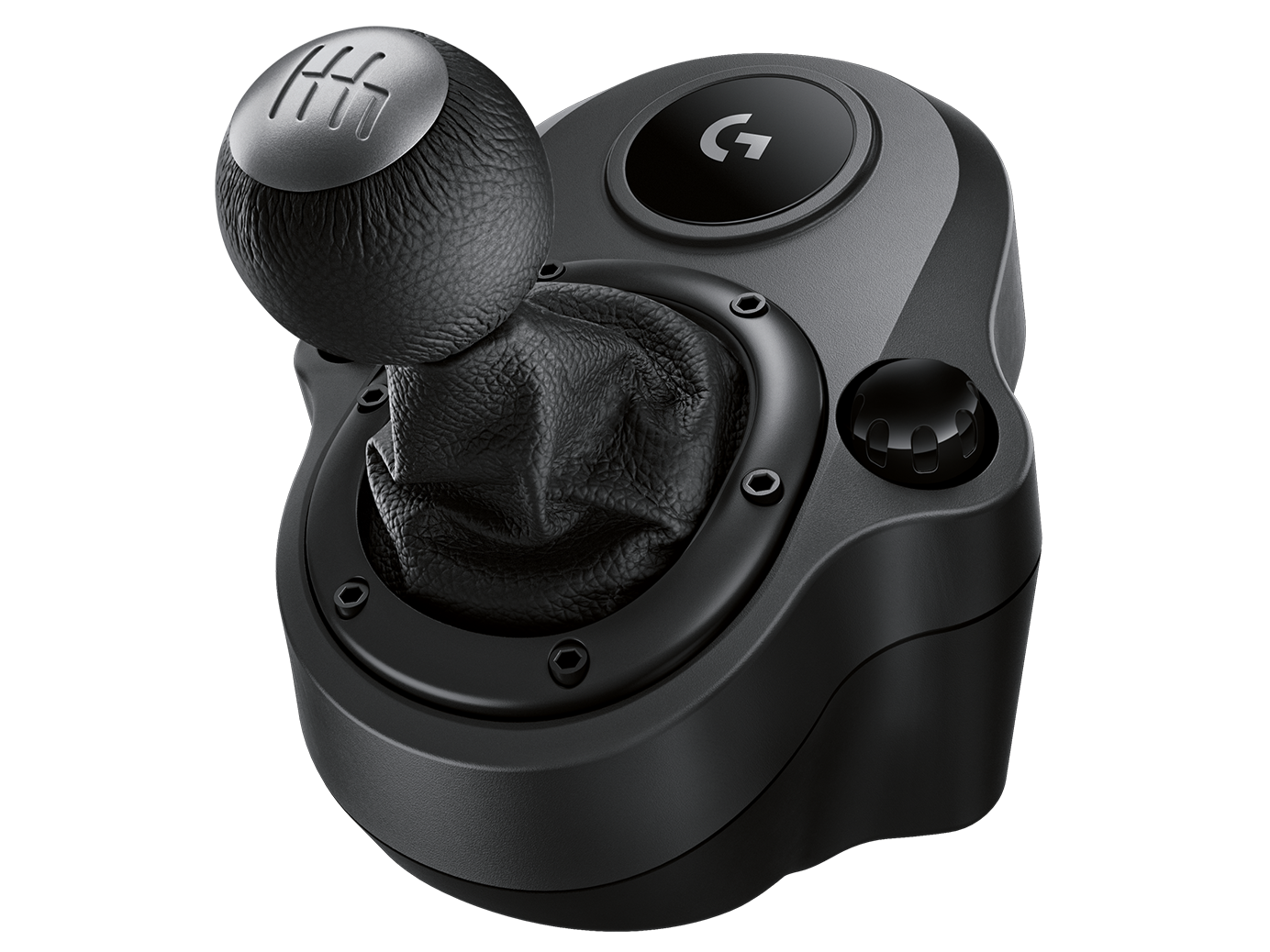 Driving Force Shifter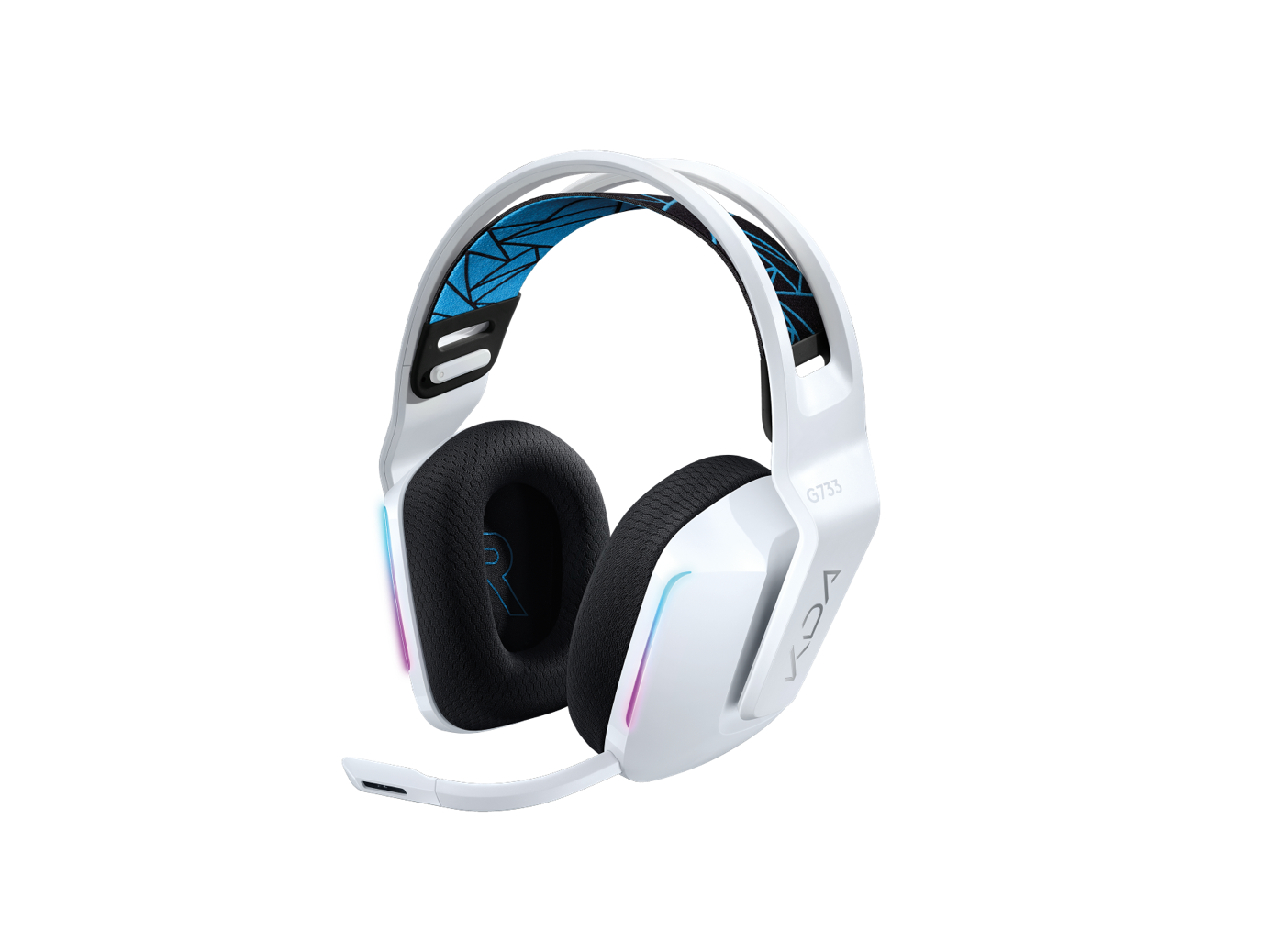 G733
BUNDLE & SAVE 20% WITH THE WHEEL TRUEFORCE PACK
Discount shown in cart
FEEL THE FUTURE OF RACING
Meet the next generation of racing wheels. The award-winning Logitech G design is reengineered to dial into your game physics, delivering unprecedented realism. Feel the pistons pumping, the gravel crunching, and every shift, drift, and hairpin turn like never before.
MEET G923
TRUE RACING COMES FROM WITHIN
FEEL TRUEFORCE ON THESE GAMES

CLOSED-LOOP MOTOR CONTROL
The right current means the right torque. G923's advanced firmware monitors all the current flowing through the wheel motors, continuously adjusting voltage to match outputs from game physics. By going beyond default settings, G923 delivers pinpoint accuracy and unprecedented realism.
MORE TRACTION.
LESS SMOKE.
Get off the starting line cleaner and faster with a programmable dual clutch launch assist in supported games.
CRAFTED FOR RACING
The classic design—modernized. The new colorway, premium brushed metal, automotive-style leather stitching, and polished pedals give G923 a professional finish. Form follows function with an integrated center marker and rotary dial.
ON-WHEEL GAME CONTROLS
Complete Xbox Series X|S, Xbox One, PS5 or PS4 controls are built right into the steering wheel. No matter how you race, every command is directly at hand.
PROGRESSIVE BRAKE PEDAL
More responsive, more accurate. The progressive spring mimics the performance of a pressure-sensitive brake system for a real racing experience. Reposition the pedal faces for heel-toe maneuvers and even more control.
YOUR RIG. YOUR WAY.
Mix, match and upgrade your sim setup with a variety of Logitech G racing gear. The Racing Adapter also let's you control your brake force pressure on-the-fly.
Shift Into Overdrive
To take the racing simulation experience over the top, add the realism of a dedicated shifter. With a short-throw feel in a 6-speed "H" pattern shifter with push-down reverse, the Driving Force Shifter from Logitech G is a driving companion you won't soon forget.
CUSTOMIZE WITH G HUB
Take full control of your rig. Adjust wheel sensitivity, force feedback levels, and button customization via powerful G HUB Gaming Software for PC.Download at logitechG.com/downloads Custom-build multiple profiles for any game and application.
18 Wheeler American Pro Trucker

4x4 EVO 2

American Truck Simulator
Assetto Corsa
Assetto Corsa Competitzione

Automobilista
Automobilista 2

BeamNG Drive

Dakar 18

Dakar Desert Rally

DIRT 3
Dirt Rally
Dirt Rally 2.0

Distance

EA Sports WRC

Eurotruck Simulator 2

F1 2015

F1 2016

F1 2017

F1 2018

F1 2019

F1 2020

F1 2021

F1 22

F1 23

Farming Simulator 15

Farming Simulator 17

Farming Simulator 19

Farming Simulator 20

Farming Simulator 22

Forza Horizon 4

Forza Horizon 5

Forza Motorsport (2023)
Forza Motorsport 7

GRID
GRID (2019)

GRID 2

GT Legends

GTR2
iRacing

KartKraft

Lawn Mowing Simulator

Live For Speed
Monster Truck Championship

My Summer Car

NASCAR 21 Ignition

NASCAR Heat 3

NASCAR Heat 4

NASCAR Heat 5

NASCAR Thunder 2004

Need For Speed Heat

Need For Speed Payback

Need For Speed 2016
Project Cars
Project Cars 2
Project Cars 3
RaceRoom Racing Experience
rFactor 2

Richard Burns Rally
Snowrunner

Spintires

Spintires Mudrunner

The Crew 2

V Rally 4
WRC 10
WRC 5
WRC 6
WRC 7
WRC 8
WRC 9

WRC Generations

Wreckfest
*

= Trueforce Support

Φ

= Dual Clutch supported
XBOX™ Series X|S and Xbox One
Assetto Corsa
Assetto Corsa Competitzione

Dakar 18
DIRT 4
Dirt Rally
Dirt Rally 2.0

EA Sports WRC

F1 2015

F1 2016

F1 2017

F1 2018

F1 2019

F1 2020

F1 2021

F1 22

F1 23

Farming Sim 20

Farming sim 22

Farming Simulator 15

Farming Simulator 17

Farming Simulator 19

Farming Simulator 20

Farming Simulator 22

Forza Horizon 2

Forza Horizon 2 Storm Island

Forza Horizon 2 Presents Fast & Furious

Forza Horizon 3

Forza Horizon 4

Forza Horizon 5

Forza Motorsport (2023)

Forza Motorsport 5

Forza Motorsport 6
Forza Motorsport 7
GRID (2019)

Grip Combat Racing

Lawn Mowing Simulator
Monster Truck Championship

NASCAR 21 Ignition

NASCAR Heat 3

NASCAR Heat 4

NASCAR Heat 5

Need For Speed Heat

Need For Speed Payback
Project Cars
Project Cars 2

Project Cars 3

Snowrunner

Spintires Mudrunner

The Crew 2

V Rally 4
WRC 10
WRC 5
WRC 6
WRC 7
WRC 8
WRC 9

Wreckfest
*

= Trueforce Support

Φ

= Dual Clutch supported
Assetto Corsa
Assetto Corsa Competitzione

Dakar 18

Dakar Desert Rally
DIRT 4
Dirt Rally
Dirt Rally 2.0

Driveclub

EA Sports WRC

F1 2015

F1 2016

F1 2017

F1 2018

F1 2019

F1 2020

F1 2021

F1 22

F1 23

Farming Sim 20

Farming sim 22

Farming Simulator 15

Farming Simulator 17

Farming Simulator 19
Gran Turismo 7
Gran Turismo Sport
GRID (2019)

Grip Combat Racing
Monster Truck Championship

NASCAR 21 Ignition

NASCAR Heat 3

NASCAR Heat 4

NASCAR Heat 5

Need For Speed Heat
Need For Speed Payback
Project Cars
Project Cars 2
Project Cars 3
Snowrunner

Spintires Mudrunner

The Crew 2

The Crew Motorfest

V Rally 4

World of Outlaws Dirt Racing
WRC 10
WRC 5
WRC 6
WRC 7
WRC 8
WRC 9

Wreckfest
*

= Trueforce Support

Φ

= Dual Clutch supported