FPS Gaming Gear - Wireless Mouse, Keyboard, Headset | Logitech G
Eliminate Excuses
Lock in and eliminate your opponents with gear designed for the advantage in FPS games. Upgrade your loadout with this limited clutch offer.
Play at Your Peak
Speed. Precision. Reliability. Exactly what you need for competitive FPS gaming. Exactly what our designers and engineers focus on. Stay in the lead with world-leading gaming gear innovation.
Hit Your Shots
G502 X PLUS + POWERPLAY

The latest in gaming mouse tech in its perfect form. Precision is everywhere in G502 X PLUS, from optical-mechanical LIGHTFORCE switches that combine incredible responsiveness and reliability to 13 programmable controls that put all your power moves at your fingertips. Unrivaled HERO 25K gaming sensor precision and pro-grade LIGHTSPEED wireless will keep you locked in.
Hear the Whole Game
G733 Wireless Headset

Stay alive with greater awareness and clearer comms. Game sense is more than what you see. What you can't hear will take you out. G733 PRO-G drivers are made of hybrid mesh for drastically reduced distortion for crystal clear comms, isolated footsteps, and booming bass. Free yourself from the drag and distraction of cables with LIGHTSPEED wireless.
Rely on Movement
Movement is the difference between holding an angle and getting thirsted. Make sure every keystroke is on time and on point. GL mechanical switches are designed for speed and precision while LIGHTSPEED wireless is ultra-responsive for control you can feel with every head glitch. And G915 TKL is compact for greater mouse area so you can flick freely.
Meet G502 X
Get the full feature set of the latest, legendary G502. G502 X PLUS is maxed out and ready for the meta.
GET 25% OFF A COMPLETE LOADOUT
Buy 2 get 15% off, Buy 3 or More Get 25% off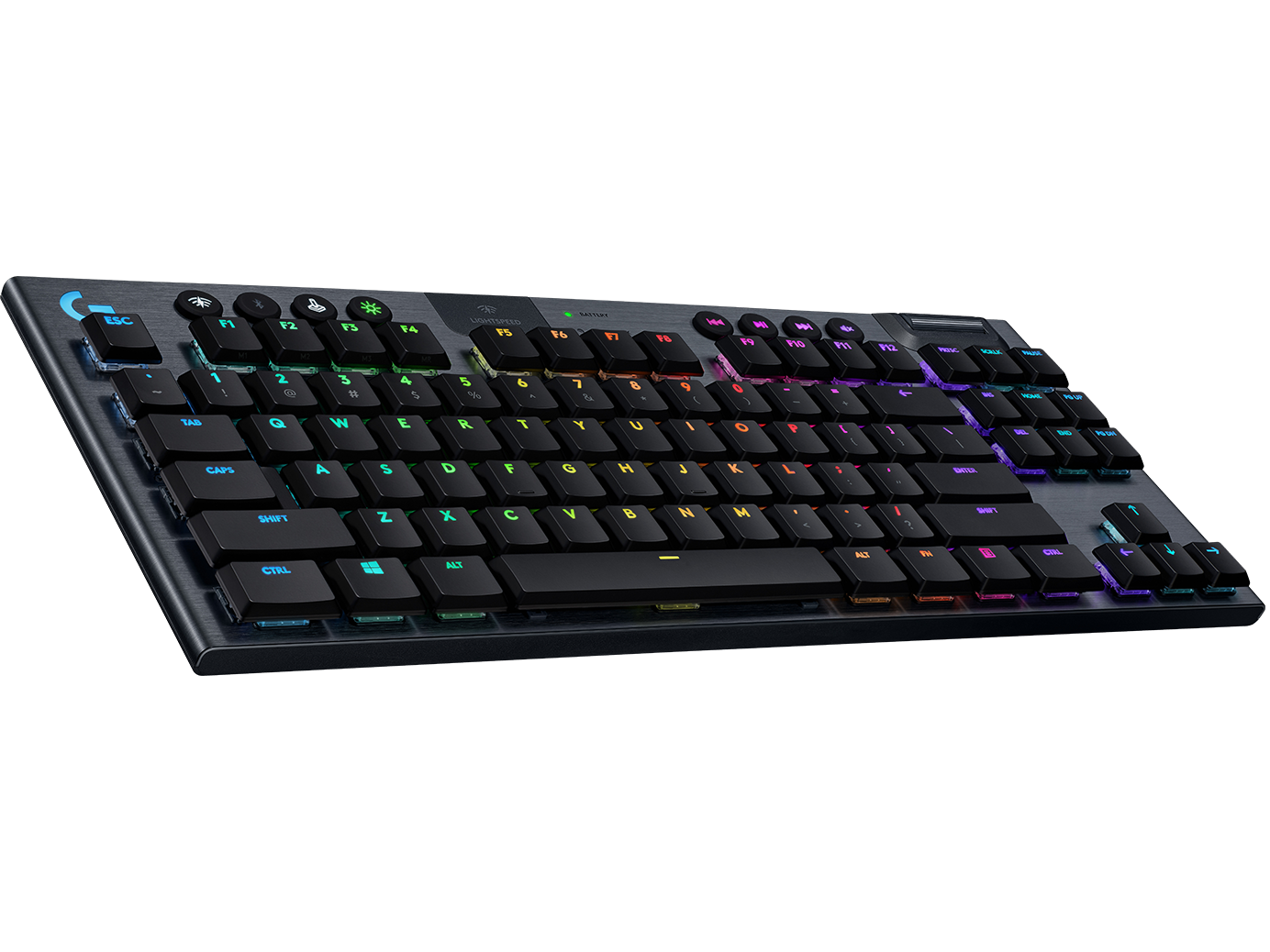 Logitech G915 TKL Tenkeyless LIGHTSPEED Wireless RGB Mechanical Gaming Keyboard
Win with Innovation
Get more dubs. Logitech G leads due to decades of engineering and design optimization, often in collaboration with hundreds of esports pros. Play your best with the best gear.
LIGHTFORCE
The first fully hybrid gaming mouse switches to combine the speed and reliability of optical and the definitive feedback of mechanical.
HERO
A sensor designed exclusively for gaming performance with unrivaled accuracy at velocities over 400 IPS across the full DPI range.
LIGHTSPEED
Esports pros rely on and win with LIGHTSPEED. That's because it solves for the critical needs in wireless gaming: Responsiveness, reliability and efficiency.
POWERPLAY
Never worry about charging your mouse again. This wireless solution always keeps compatible mice at peak power levels both at rest and at play.
LIGHTSYNC
Fully programmable and customizable across ~16.8M colors. Synchronize with audio or screen sampling. Even create your own animations.