G233 Prodigy Wired Gaming Headset
G233 Prodigy
Wired Gaming Headset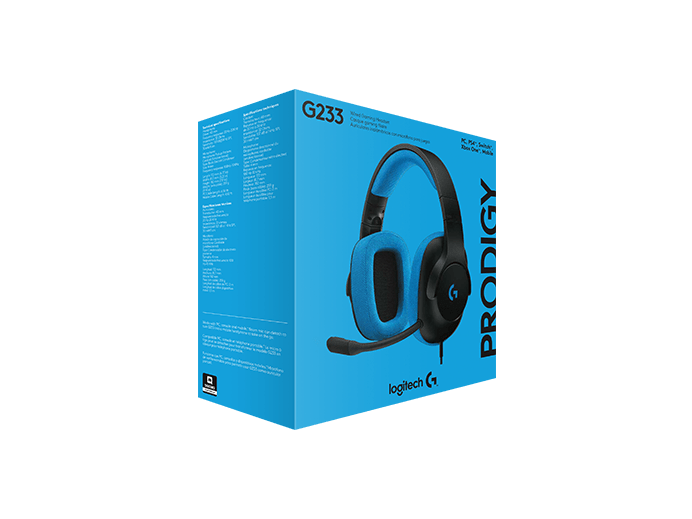 G233 Prodigy
Wired Gaming Headset
Lightweight, durable and comfortable. Enjoy crystal clear sound and voice comms with PRO-G 40 mm drivers and next-gen surround sound. G233 is Discord certified for optimum audio performance.
Dimensions
Mobile Cable Length: 1.5 m
Technical Specifications
Headphone
Driver: 40 mm
Frequency Response: 20 Hz - 20 kHz
Impedance: 32 Ohms
Sensitivity: 107 dB@1KHz SPL 30mW/1cm
Cable length: 2 m
Microphone
Microphone Pickup Pattern: Cardioid (Unidirectional)
Type: Back Electret Condenser
Size: 4 mm
Frequency Response: 100 Hz-10 KHz
2-Year Limited Hardware Warranty
3.5 mm audio port for PC/console/mobile
Some console controllers require an adapter for audio cable input.
G233 gaming headset
Detachable microphone boom with micro pop filter
Mobile cable with inline controls and mic
Console/PC cable with inline controls
PC splitter for separate mic and headphone jacks
User documentation
PC and Console
Compatible
G433 and G233- Introducing a Different Breed of Gaming Headsets
KEY FEATURES
Advanced Gaming Audio
Gamers require immersive audio performance and for good reason as each new title brings ever greater sound design. G233 packs amazing audio performance into a design that is extremely lightweight, durable and comfortable.
Pro-G™ Audio Driver
Pro-G drivers produce booming bass and clear highs thanks to hybrid-mesh construction that drastically reduces distortion. G233 ear cups also feature an acoustic port positioned behind the driver for even more dynamic, spatial sound.
Lightweight, Incredibly Strong
Weighing in at 259 g, G233 is comprised of lightweight, glass-fiber injected polycarbonate, stainless steel and TR-90 nylon. Featuring sports-mesh ear pads that surround the ear and provide just the right amount of force to stay firmly in place and comfortably breathable.
Certified Voice Chat
The noise-cancelling boom microphone with micro-pop filter is designed for clarity in communications and chat. G233 is Discord certified guaranteeing crystal-clear communication performance.
Detachable, Transformable
G233 comes fully equipped with detachable boom mic and swappable cables to quickly transform G233 from PC/console mode to mobile/on-the-move mode. This is a modern headset that games wherever life takes you
Hear it First.
Hear it All.
Harness the power of Artificial Intelligence to deliver truly immersive sound experiences uniquely crafted for your ears. With Immerse, you hear the precise location of enemy footsteps and reload sounds; you have the advantage of hearing your enemies before they hear you. The Close Combat feature brings you right into the action as you feel bullets whiz by. Bring the power of Immerse to your Logitech G headset and turn your ears into lethal weapons.