G613 Wireless Mechanical Gaming Keyboard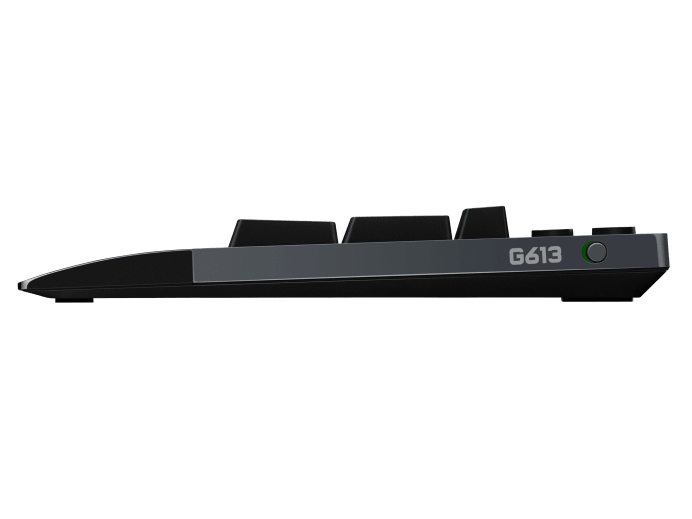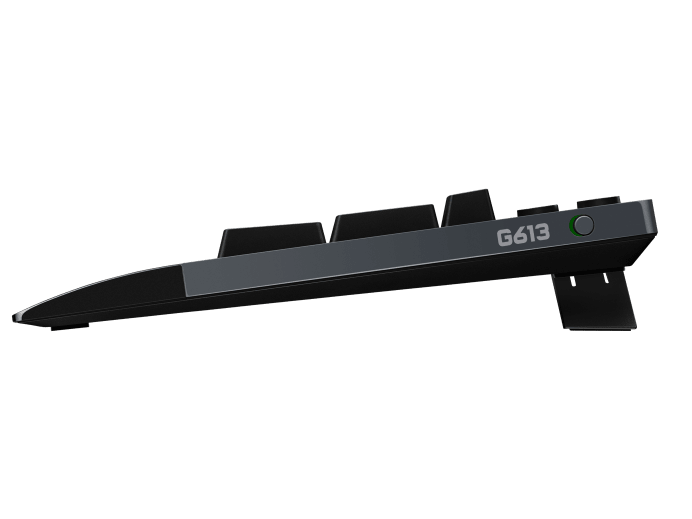 Next-generation wireless keyboard designed for gamers who demand both the high performance capabilities of mechanical switches and the freedom of wireless gaming.
Dimensions
Weight: (1410 g) keyboard only
Weight with 2 AA batteries: 1460 g
Technical Specifications
Romer-G Tactile Key Switches
Durability: 70 million key presses
Actuation distance: 1.5 mm
Actuation force: 45 g
Total travel distance: 3.2 mm
Battery life
18 months (may vary based on user and computing conditions)
2-Year Limited Hardware Warranty
USB port and Windows® 7 or later, Mac OS® X 10.10 or later, ChromeOS™, or Android™ 3.2 or later
Bluetooth® enabled device with Windows 8 or later, Mac OS X 10.12 or later, ChromeOS, or Android 3.2 or later, iOS 10 or later
(Optional) Internet access for Logitech G HUB. Refer to LogitechG.com/downloads/G HUB for more details.
G613 wireless mechanical keyboard
LIGHTSPEED USB receiver
Phone stand
Extender USB cable
2 AA Batteries
User documentation
Wireless Mechanical
G613 is a next generation wireless keyboard designed for gamers who demand both the high performance capabilities of mechanical switches and the freedom of wireless gaming.
Introducing G603 and G613- Play without Limits
LIGHTSPEED Wireless Technology
G603 and G613 - Break Free From The Cable
LIGHTSPEED Wireless
Through end-to-end engineering and design, Logitech G developed a robust wireless solution to solve the fundamental problems of latency, stability, and connectivity. The end result is LIGHTSPEED, a pro-grade wireless solution, that achieves wired-like performance.
KEY FEATURES
1 ms Wireless Achieved
Logitech G engineers worked through a complete end-to-end technology optimization from sensor to firmware, circuitry to antenna. We tested and refined each component, focusing on the slowest link until nothing was slow.
Romer-G Tactile
Romer-G Tactile switches deliver quiet, precise mechanical performance with incredible feel and durability with 70M click-life. The choice of top esports professionals, Romer-G Tactile switches have a short-throw actuation at 1.5 mm which means 25% faster 1.5 mm vs 2.0 mm actuation distance on standard mechanical switches. keystrokes than the competition's standard mechanical switches. Romer-G is a perfect blend of speed, precision and quiet performance while still maintaining a discernible, tactile actuation feel.
Programmable G-Keys
Six dedicated G-keys can be programmed with custom macros and in-app commands. Execute complex actions, simply and quickly, with a keystroke. G-keys can be assigned per game or app profile for customizability and convenience. Use Logitech G HUB to easily setup and manage profiles, commands and more.
Connect to Multiple Devices
Connect to LIGHTSPEED wireless for super fast 1 ms report rate or swap to another device with the push of a button using Bluetooth connectivity. Toggle between high-performance LIGHTSPEED wireless via USB receiver and Bluetooth— quickly and easily.
Next Gen Wireless Gaming Desktop
Pair G613 wireless mechanical keyboard with G603 wireless gaming mouse to acquire the complete wireless desktop solution. G603 features our next generation HERO sensor, LIGHTSPEED wireless, Hi-Lo power management system and more high performance features that gaming enthusiasts demand.