ASTRO A40 TR HEADSET + MIXAMP PRO TR Wired Gaming Headset + MixAmp for Xbox PlayStation, and PC/MAC*
ASTRO A40 TR HEADSET + MIXAMP PRO TR
Wired Gaming Headset + MixAmp for Xbox PlayStation, and PC/MAC*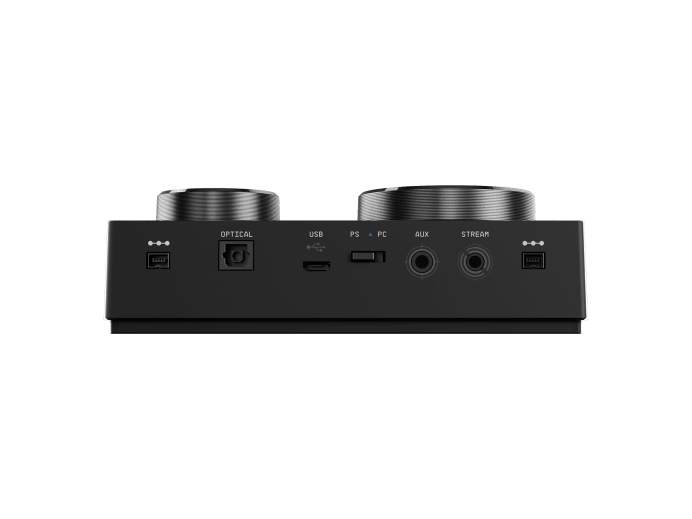 ASTRO A40 TR HEADSET + MIXAMP PRO TR
Wired Gaming Headset + MixAmp for Xbox PlayStation, and PC/MAC*
The A40 TR headset + MixAmp Pro TR gaming pack delivers precise audio and game:voice control for pro-level console and PC gaming, content creation and live streaming.
*MixAmp Pro for Xbox is compatible with Xbox Series X|S and PC/MAC. MixAmp Pro for PlayStation is compatible with PlayStation 4 and PC/MAC. HDMI adapter available for PlayStation 5 compatibility.
Dimensions
Primary Specifications
Connector: 3.5 mm Mini-stereo and PC Splitter
Boom Mic: 6 mm Uni-directional
PHYSICAL SPECIFICATIONS
Weight w/o cable: 369 g
Length: 203.2 mm
Width: 196.8 mm
Height: 95.2 mm
Technical Specifications
Transducer Principle: Dynamic, Open 40 mm Sound Driver tuned for Gaming
Frequency Response: 20-20,000 Hz
Nominal impedance: 48 Ohms
2-Year Limited Hardware Warranty
Black/PS :

939-001661

X-Edition/XB :

agb-000650

X-Edition/PS :

agb-000630

Black/XB :

939-001659
MIXAMP PRO TR
Sound Power Out: 100 dB SPL
Sample rates
Game audio: 48 kHz @ 16 bit
Chat audio: 16 kHz @ 16 Bit
USB Standard: USB 2.0 Full Speed and USB Audio 1.0
Stream Port (Line out)
Frequency response
USB Game and USB Voice (Chat), Aux port line out
Frequency response: 20 - 8 kHz
Audio inputs
Optical In, USB Game and USB Voice, Aux port line in
Frequency Response: 20-20 kHz
Total harmonic distortion: <0.05% @ 0 dBFS
Signal to Noise Ratio: >70 dB
Weight: 296 g
Dimensions: 13.7 cm x 8 cm x 3.8 cm
PC, Mac, PS4, Xbox, or Switch
MixAmp Pro for XBOX, PC/MAC
XBOX SERIES X|S, XBOX ONE

Game/Chat mixing
Dolby Atmos, Windows Sonic for Headphones

PC/MAC

Game/Chat mixing
Dolby Atmos, Windows Sonic for Headphones
MixAmp Pro for PlayStation, PC/MAC
PlayStation 4
PS5

Optional HDMI adapter (sold separately) for Game/Chat mixing

PC/MAC

Game/Chat mixing
Dolby Atmos, Windows Sonic for Headphones
A40 TR Headset
MixAmp Pro TR
2.0m A40 Inline Mute Cable
3.0m TOSlink Optical Cable
3.0m Micro-USB Cable
Quickstart Guide
0.5M Daisy Chain Cable
Dolby® Atmos Subscription
Developed to meet pro players' needs for audio fidelity and voice communications in competitive gaming situations, A40 TR plus MixAmp Pro TR gives you precise control over your gaming audio experience at all times.
ASTRO AUDIO V2
SPATIAL AWARENESS AND AUDIO CUE DETECTION
GAME : VOICE BALANCE
PRECISE GAME AUDIO AND VOICE CHAT BALANCING

DOLBY AUDIO
CINEMATIC, 3D GAMING AUDIO EXPERIENCE
TUNED WITH ASTRO AUDIO V2
Detailed frequency response and true-to-life imaging enable precise localization of sound and an unmistakable, competitive edge in your gaming. A40 and MixAmp Pro work together to render dialogue, music, and in-game sounds with stunning accuracy.
AUDIO YOUR WAY
Configure your setup with precision using the free ASTRO Command Center software for PC and Mac. Create custom EQ modes so you're always locked into the best gaming audio experience.
UNSURPASSED COMFORT AND DURABILITY
The A40 TR features a lightweight, yet rugged construction with premium materials for a cool, pressure-free fit. Cloth ear cushions maximize comfort, backed with synthetic leather for the best acoustic performance.
GAME : VOICE BALANCE
Pioneered by ASTRO, game:voice balancing allows easy adjustment of the ratio of game audio to voice chat.
SWAPPABLE PRECISION MICROPHONE
The highly sensitive unidirectional mic focuses on your voice and minimizes background noise. The mic can be positioned on either side of the A40 TR headset.
CUSTOMIZED STREAM OUTPUT
Control what your stream audience hears, including chat and game audio levels. Broadcast in 2-channel Dolby Surround Sound.
MOD KIT READY
For loud environments, the A40 TR can transform into a closed-back noise-isolating headset by adding a mod kit (sold separately) featuring sealed speaker tags, synthetic leather ear cushions and a voice-isolating microphone.
DIGITAL DAISY CHAIN
Faster than the speed of sound, the fully digital connection enables interference and lag-free local voice communications.
A10 WIRED
Wired Gaming Headset for Xbox Series X|S, PlayStation 5, Switch, PC/MAC, and more
A30 WIRELESS
LIGHTSPEED Wireless Gaming Headset for Xbox, PlayStation, PC/MAC, and Mobile
A40 WIRED
Wired Gaming Headset for Xbox Series X|S, PlayStation 5, Switch, PC/MAC, and more