PRO Wireless Gaming Mouse
PRO
Wireless Gaming Mouse
PRO
Wireless Gaming Mouse
Logitech G collaborated with more than 50 pro players to find the perfect shape, weight and feel combined with LIGHTSPEED wireless and HERO 25K sensor. The result: is one of the most popular mice in esports.
FREE Keyboard Sleeve with G Series Mouse and Keyboard Purchase.
Our Gift to You : FREE G FITS Earbuds ($229.99 value) on orders over $349. 
Dimensions
Cable length: 5.9 ft (1.8 m)
Technical Specifications
RESPONSIVENESS
USB data format: 16 bits/axis
USB report rate: 1000Hz (1 ms)
Wireless technology: LIGHTSPEED Wireless
Microprocessor: 32-bit ARM
Battery life
Default lighting: 48 Hrs
No lighting: 60 Hrs
Other Features
POWERPLAY compatible
Onboard memory: 5 profiles
LIGHTSYNC RGB: 1 zone
Mechanical Button Tensioning System
2-Year Limited Hardware Warranty
Black :

910-005270

Shroud :

910-005974
Internet access for Logitech G HUB (optional)
PRO Wireless Gaming Mouse
LIGHTSPEED USB receiver
USB charging/data cable
Optional receiver extension adapter
Optional side buttons (2x left, 2x right)
Optional button covers (2x left, 2x right)
User documentation
2-year limited hardware warranty
Designed with Pros, Engineered to Win
PRO Wireless was designed to be the ultimate gaming mouse for esports professionals. Over a 2 year period, Logitech G collaborated with more than 50 professional players to find the perfect shape, weight and feel combined with our LIGHTSPEED wireless and HERO 25k sensor technologies. The result is a gaming mouse with unrivaled performance and precision, giving you the tools and confidence needed to win.
Logitech G PRO Wireless: Working With Pro Gamers
Logitech G PRO Wireless Gaming Mouse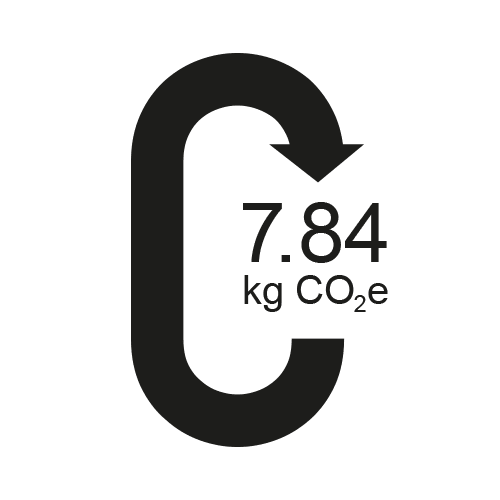 CARBON CLARITY
We believe carbon is the new calorie - everyone should know what they're consuming. The carbon footprint of this product, in kg CO2e, is shown here. We're working hard to reduce it, and we have offset our residual carbon impact to zero by supporting forestry, renewables and climate-impacted communities.
Our Most Accurate Gaming Sensor
As esports professionals strive for ever greater speed and accuracy, so too does Logitech G. With the invention of HERO 25K, the next-gen gaming sensor, the world now has a new leader. For PRO Wireless, HERO 25K has been optimized to track insane flicks at speeds over 400 IPS without spinning out. HERO 25K delivers peak performance at any sensitivity with zero smoothing, acceleration, or filtering from 100 to 25,600 DPI. HERO 25K also consumes 10x less power than predecessors, like PMW3366, enabling a lighter battery and longer battery life. Pros require the best, and that's HERO 25K.
LIGHTSPEED Wireless
For pros, cutting the cord is vital. Cord drag produces friction and distraction that is unacceptable in professional esports. This innovative, end-to-end wireless technology overcomes the limitations of latency, connectivity and power to provide consistent, lag-free, 1 ms report rate connection—without a wire.
Ultra Lightweight
The latest endoskeleton design from Logitech G achieves an unreal 80-gram weight. The incredibly thin outer shell, as thin as 1 mm, uses an innovative ladder-chassis design for tournament-ready strength and structural support.

The advanced LiPo battery is incredibly long-lasting and lightweight for no-hassles, worry-free wireless gaming. Charge before a tournament and you can forget all about the battery while you compete.
4-8 Programmable Buttons
Removable left and right side buttons make PRO Wireless truly ambidextrous, and let pros decide how many side buttons they want—from zero to four. The DPI buttonLogitech G HUB software is required to reprogram DPI button and will be available starting 9/3/2018 is located on the underside of the mouse to eliminate unintentional DPI shifts in-game. Logitech G PRO Wireless Gaming Mouse can be used out-of-the-box with preset button settings or can be fully configured to your custom preferences using Logitech G HUB.
Onboard Memory
With an onboard memory, you can use G HUB to save your preferences directly to the mouse for fast and easy use on tournament systems. Your mouse settings remain consistent from home to stage. Skip installing custom software or reconfiguring your settings. Get straight to the game.
Mechanical Button Tensioning System
PRO Wireless is equipped with the latest primary button engineering. Using a metal spring to tension separated left and right button keyplates, the travel distance and actuation force (force required to click) have been reduced and refined. The result is an incredibly accurate, consistent and tight feel for every click.
Enduring Performance
Built on over 35 years of Logitech expertise in engineering, building, testing mice, PRO Wireless is designed to withstand pro esports players during training and tournaments. The surface of PRO is coated for durability and grip while the feet are tested to perform for over 250 km of use.
Play to Win
PRO Series
PRO Series gear is purpose-built for professional gaming. The most advanced technology and highest performance specs—designed in partnership with professional players worldwide—deliver the precision, speed, and endurance required to win. Everything pros need. Nothing they don't.