Playseat® Challenge X Logitech G Edition
The Playseat Challenge X - Logitech G Edition puts you right in the driver's seat to experience the thrill of racing. Extremely lightweight, quick to setup/store and fully adjustable racing positions with breathable Actifit™️ material for total comfort and immersion.
Our Gift to You : FREE G FITS Earbuds ($229.99 value) on orders over $349. 
Dimensions
Product dimensions (in use)
Length: 55.12 in (140 cm)
Width: 23.62 in (60 cm)
Height: 41.34 in (105 cm)
Min-Max user heigh
Min: 3.93 ft (120 cm)
Max: 86.61 in (220 cm)
Min-Max user weight
Min: 44 lbs (20 Kg)
Max: 359 lbs (163 Kg)
Compatible Playseat accessories
Playseat Floor Mat XL
Playseat TV Stand / Playseat TV Stand Triple Package
Playseat TV Stand XL / Playseat TV Stand XL - Multi
Technical Specifications
Materials
Seat

Front: ActiFit™️ fabric
Back: Leatherette

X-adapt™️ hinges: Flow forged aluminum
Frame: Carbon steel
Included accessories: Carbon steel
Connection parts: Reinforced plastic
2-Year Limited Hardware Warranty
Shifter Mount
Tilting Pedal Bracket
Cable Clips
10pcs Screws for Mounting Wheel/Pedal/Shifter
Allen Key
FEEL THE ROAD. OWN THE RACE.
Get right in the driver's seat to experience the thrill of racing. Playseat Challenge X - Logitech G Edition is a lightweight, quickly foldable racing seat with superior comfort, adjustable seating positions and easy cockpit access.
26 lbs (11.6 Kg)
SUPER LIGHTWEIGHT
FULLY ADJUSTABLE RACING POSITIONS
Enjoy the perfect balance between comfort and stability with the 6 seating positions of X-Adapt™. Fine-tune positions of pedals and wheel to replicate the feeling of being in a car.
STAY COOL, COMFORTABLE AND FOCUSED
Race in comfort with breathable ActiFit™️ material. Its body-conforming design with adjustable rigidity offers superior support. Stay cool during long races with heat dissipation. Feel every input and enjoy optimal feedback.
QUICK SETUP & STORAGE
At only 11,6 kg (26 lbs) the seat can be quickly folded and stored away - the ideal companion for drivers who want the full racing experience without the need of a dedicated space
EASY-ACCESS OPEN COCKPIT ENTRY
Convenient cockpit entry system lets you easily jump into the driver's seat and lock in for an exhilarating experience.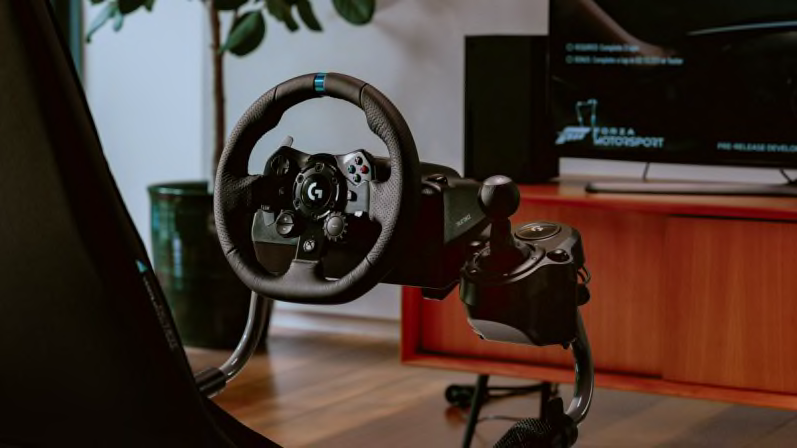 SHIFTER MOUNT INCLUDED
Drift or shift? No problem. The Playseat Challenge X - Logitech G Edition comes equipped with gearshift mount, allowing you to upgrade your race experience with the Logitech G Driving Force Shifter.
EASY TO ASSEMBLE
The unique  design ensures quick set up with no tools required. Spend more time on the track and less in the pits.
G923 Racing
Wheel
TRUEFORCE Racing wheel for Xbox, PlayStation and PC
DRIVING FORCE
SHIFTER
For G923, G29 and G920
Racing Wheels
ASTRO A30
WIRELESS
LIGHTSPEED Wireless
Gaming Headset